Local Lions Clubs & The Monticello Lions Club
The Monticello Lions Club is nearing 50 years of service to the Illinois area roughly bounded by the Monticello school district, carrying out the motto of Lions everywhere: We Serve.
There are Lions Clubs in the Piatt County, Illinois, area in Atwood, Bement, Cerro Gordo, and Weldon.
---
When We Meet – Our Bi-Monthly Dinner Meetings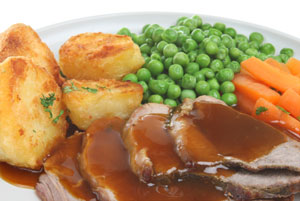 Monticello Lions meet the second and fourth Monday of each month except in December when meetings are only on the second Monday.  An excellent catered dinner and informative programs highlight the fun meetings, which begin at 6:30 p.m. in the south meeting room on the second floor of the Monticello Community Building at the northeast end of Monticello's central business district.
The club's major fundraiser is the monthly Fish Fry usually held on the third Friday of the month in the basement of the Community Building.  The Club also makes and sells peanut brittle around Thanksgiving and Christmas.
>> See Programs & Events Calendar
---
Our Donations
The Lions donate substantial sums to provide a free Thanksgiving Dinner in November to several hundred senior citizens, a tradition in Monticello for over 20 years.  The dinner is named after the late Lion Ron Milton, who chaired the project for many years.
The Monticello Lions Club also donates substantially to Mary Bryant Home for the Blind in Springfield, Illinois, and Leader Dogs for the Blind in Rochester, Michigan.  About $4,000 in scholarship funds are provided each year to graduates of Monticello High School.  A list of Monticello Lions contributions can be found on this web site.
Lions are the largest service club organization in the world, with 1.35 million members in more than 46,000 clubs worldwide,  in more than 208 countries and geographic areas.
---
History of Lions Clubs
In 1917, Melvin Jones, a 38-year-old Chicago business leader, told members of his local business club they should reach beyond business issues and address the betterment of their communities and the world. Jones' group, the Business Circle of Chicago, agreed.
After contacting similar groups around the United States, an organizational meeting was held on June 7, 1917, in Chicago, Illinois, USA. The new group took the name of one of the invited groups, the "Association of Lions Clubs," and a national convention was held in Dallas, Texas, USA in October of that year. A constitution, by-laws, objects and a code of ethics were approved.
Within three years, Lions became an international organization. Since then, we've earned high marks for both integrity and transparency. We're a well-run organization with a steady vision, a clear mission, and a long – and proud – history.